I might have woken up at the wrong side of the bed this morning. It might be the cold wet weather today. It might be the fact that I almost miss my bus. It might be the expired bread I ate for breakfast. It might be one or all of these that make me hate Japan today.
I didn't say Sumimasen to the lady I sat with at the bus. I don't feel polite enough. Besides, the space is vacant. It's meant for another passenger. I didn't greet "Ohayo Goazaimasu" to the students I walked with to school. Why would I? They don't even bother to greet me. I wanted to shout at the teacher on the phone for sounding like a tamed puppy. Dude, your telephone noises are disturbing! I've no patience for my JTE who constantly ask me to join her classes even it was my break. I can't be obliging right now! I'm hating Japan today!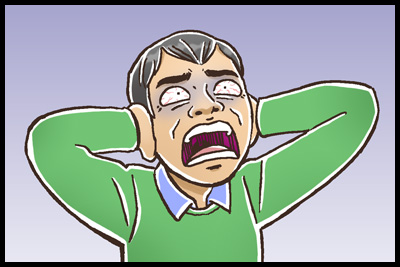 credit: http://www.lifeaftertheboe.com/page/5/
I have enough of Japan's (or the Japanese's)...
1. Social Awkwardness
The Japanese know how to greet and bow. And that's all they know about social interactions. At least with foreigners, that is. Try engaging them in mindless polite conversation and in no time, your friendly efforts will be down the drains.
Usual conversation in the pantry:
Me: How are you, Sensei?
Sensei: I'm fine, thank you. (Silence)
Me: The weather is cold today.
Sensei: Yes, it is. (Silence)
Me: Do you like coffee?
Sensei: Yes, I do. (Silence)
Me: *gives up and walks away*
Why can't they ask me back or make a comment on something? Then when I meet teachers along the hallways, it's rare to be acknowledged. No, I don't need to be stopped and be chatted on. A nod or a small smile will suffice. Just don't pretend to look at the bulletin board or glance at the books you're carrying. Geez!
2. Silence
I'm tired of eating in the teachers's room as if I'm alone. Why can't the teachers at least make small talk while eating? Why so serious during lunch time? Even when I eat with the students, some students would just be all withdrawn and quiet as if I'm an imposition to their peace of mind.
And why can't my seatmate at least ask my permission before placing things on my table? And it doesn't take long to tell me what you want me to do for a class. Why this constant silence until a crucial moment comes up?
3. Indirectness
I'm already annoyed by veiled commands hiding behind questions. Don't ask if I could probably do this and do that when you know that I have to do it. Just say excuse me when you need something instead of hovering around me. I feel creeped out. Tell me if I have to tie my long hair or remove my earrings in school instead of checking on my hair and ears. It's also creeping me out. What's so difficult with just talking upfront?
4. Gaijin Treatment
Yes, I'm a foreigner but I'm part of the school. I need to be informed if there are schedule changes. I need to know the students who I shouldn't push doing things. Don't talk about me as if I'm not there cause I can actually understand more than half of what you're saying. And please, stop staring at me for whatever reason.
(For more Gaijin Problems, click
here)
5. Weather
My hair thinned out, my skin's dry and my joints are aching. All because of the cold, windy weather! When will winter end? I'm tired of dressing up with heaps of layers. I'm broke paying high electric and gas fees. I want to resume running without battling pneumonia. I just miss a normal weather.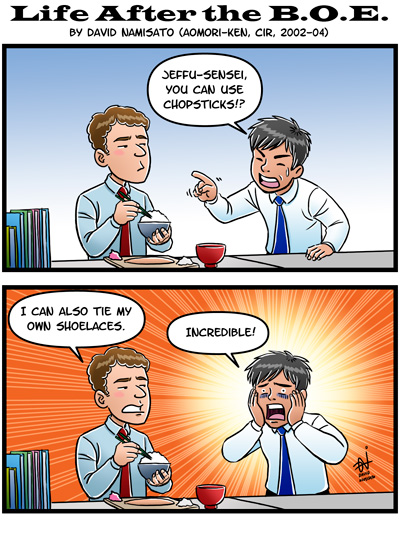 credit: http://www.lifeaftertheboe.com/manga/chapter/original/page/5/
Aside from these, I'm tired of hearing 'kawaii' (cute) for all things. I'm tired of hearing 'osihi' (delicious) for all food. I'm tired of hearing 'sugoi' (great) for even as simple as tying shoelaces. Surely, the Japanese language has more adjectives than these. Use them please!
I know I'm all whiny and negative. Perhaps, my romance with Japan is drawing to a close. Or, it could just really be the expired toast I had this morning.