Tracts of sloping sands overlooking the Pacific Ocean and a perfect view of sunrises make Nakatajima Sand Dunes worth a visit.
There are only two places where I have seen tracts of sand- one in Ilocos, Philippines and the other one in Hamamatsu, Japan. Comparing the two sand dunes I can say without bias that the one in the Philippines is much better. It's wider, sand is whiter, slope more interesting and there are more activities. Nakatajima pales into comparison. However, I would still say that Nakatajima is still worth seeing.
Here are the reasons:
1. It's near Hamamatsu Station.
Nakatajima is accessible. I think that alone makes it a good sightseeing place. For someone like me who doesn't have a car, I really like it when I can go go to a place by bus or train. For less than 20 minutes from the main station, I can already enjoy a good view of the ocean and just feel one with nature.
How to Get There:
Take the Number 4 Bus from the Bus Terminal at Hamamatsu Station.
Bus 4 is on Terminal or Pole 6. Alight at Nakatajima Sakyu and you're there!
(For Places to See Near Hamamatsu Station, click here)
2. It has a clear and perfect view of sunrise and sunset.
Since Nakatajima is part of the Pacific Ocean shoreline, it gives a very good view of the sunrise. I went here llast January 1 to witness the first sunrise of the year. There were a lot of people even with the bone-chilling and blood-freezing wind. And I can't blame them, the view was just breathtaking.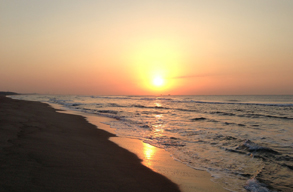 first sunrise at Nakatajima
photo credit: http://www.inhamamatsu.com/recommend/cat/Hatsumode-hatsuhinode.php



(See more on the First Sunrise of the Year here.)
3. The sand changes color depending on the time of the day.
I've been to Nakatajima three times in different times of the day. Sunset is a a good time to see the sands change colors yellowish to orange to pink to purple then black. It's like the sands mirror the colors of the sky.
Purple sands at Nakatajima
photo credit: http://www.japanguides.net/shizuoka/outskirts-of-hamamatsu-area.html
4. It got a good view of the ocean.
I'm a water-lover so just a sight of the crashing waves of the ocean gets me excited. Practically speaking, there's really nothing to see except waters, waves and some rocks. Swimming is not allowed. Even walking on the waters is prohibited. But there's just something about the ocean that soothes and relaxes me. It just allows me to reflect. It provides a respite from life's stresses.
Nakatajima Sand Dunes with the Pacific shoreline
photo credit: http://commons.wikimedia.org/wiki/File:Nakatajima_Sand_Dunes_6.jpg
(For another water tourist spot in Hamamatsu, Lake Hamana, click here)
5. It's across a park and a museum.
Aside from sightseeing, there's nothing to do on Nakatajima Sand Dunes. I only know that annual kite festivals are held there. Aside from that and the New Year's first sunrise, Nakatajima is just a quiet tract of land for the most part of the year. Good thing is just across the sand dunes, a museum can be visited. There's also a park for picnics and simple relaxation.
Festival Pavillion across Nakatajima Sakyu
photo credit: http://www.japanguides.net/shizuoka/outskirts-of-hamamatsu-area.html
Nakatajima Sand Dunes with its view of the sunset and sunrise, sunset and the ocean offers me a brief getaway from the mudane things of daily life.