Autumn afternoon at Lake Sanaru, Hamamatsu
Side note first:
Lately, I haven't been writing regularly because my busyness is killing my creativity. I'm working 10-12 hours a day, 6 days a week. I also have church responsibilities on Sundays. There's no time to think and allow ideas to grow. It's really true that too much work can drain art. (Art, really? hehe!) I want to write at least 3 times a week but whenever I open my blog, I'm just staring and staring on the screen. I'm not complaining about work, just hoping I can have more time to think and write. So that's about the side note.
It's no secret that Japan's an expensive country to visit and explore. I've been around several countries in Asia and so far, Japan has the priciest accommodation and transportation. Justifiably, the accommodations in Japan, even the youth hostels, are really clean and safe. The transportation system is dependable and efficient. Still, wouldn't it be nice to save some Yen while enjoying this country?
One secret to travel cheap here is by using the Seishun Juhachi Kippu. In Translation it means, Youthful 18 Ticket. (Juhachi= 18, Kippu= ticket). It's a collection of 5 tickets to JR local trains worth 11500 Yen.
Here's a clearer and more extensive explanation from
Japan Guide:
The Seishun Juhachi Kippu, meaning something like "Youthful 18 Ticket", is a seasonally available railway ticket, which gives you five days of unlimited, nationwide travel on local and rapid JR (Japan Railways)
trains
for only 11,850
yen
, or 2,370 yen per day!
Availability
The Seishun 18 Kippu is only available three times a year during school holiday seasons, as shown in the table below (subject to change):
| | | |
| --- | --- | --- |
| Period | Valid | On Sale |
| Spring | March 1 to April 10 | February 20 to March 31 |
| Summer | July 20 to September 10 | July 1 to August 31 |
| Winter | December 10 to January 10 | December 1 to December 31 |

Eligibility
Despite its name, the Seishun 18 Kippu can be used by people of any age. It is available to foreign tourists as well as Japanese nationals and foreign residents of Japan. However, there is no child fare.

Usage
Where is it sold?
The Seishun 18 Kippu can be bought at most JR stations across Japan. Consult the table above for the dates during which the ticket is on sale.
How does the ticket look like?
The ticket is one small card with five fields to be stamped on each day it is being used.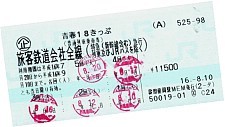 Can it be shared?
The Seishun 18 Kippu is a non-personal, transferable ticket, meaning that it can be used either by one person on five days or be shared by up to five different people. When sharing one ticket as a group, you always need to travel together, and each person uses up one of the ticket's five days of validity. Some examples on how the ticket can be used are listed below:
1 person uses it on 5 days (it can be a different person each day)
2 people share it on 2 days, and 1 person uses it on 1 day
3 people share it on 1 day, and 1 person uses it on 2 days
5 people share it on 1 day
etc.
I've personally used this ticket while travelling with friends. Thanks to Seishun Juhachi Kippu, I was able to visit Hakuba, Tokyo, Osaka, Kyoto, Kobe, Nagoya, Shizuoka, Gifu, Kanagawa, etc on a budget. The only downside is that I spent a lot of time on the train. The longest so far is 7 hours when I went to Hakuba. It seemed long but I didn't mind. I traveled with great companions who didn't complain and who's also as adventurous as I am (maybe even more so). Also, the views from the train are beautiful and varied so travelling was always pleasant.
This year for winter vacation, I'm planning to use this ticket to visit Mie's Nabano no Sato next weekend. (I'll write about it next time) I'll be in the Philippines for the holidays so maybe that's the only place I can visit with Seishun 18 Kippu for this break.
For more about travelling in Japan, check these super helpful articles from Zooming Japan!